Marching Band Makes History With Win at Harrison Marching Festival
The Pine Creek Eagle Marching Band has made history. On Saturday, October 16, Pine Creek Eagle Marching Band was named Grand Champions of the Harrison Marching Band Festival at Harrison High School. Pine Creek has a long history of competing in the festival, but this is the first time that they have ever won a full competition. "It's a really big deal. It's the first full competition we've ever won, so that's historical for us. It's also kind of a place marker, showing us that we're better than we thought we were, and that we actually have a shot this year, and it's really added a ton of energy to the band going into regionals this Wednesday," said drum major Olivia Dillemuth (12).
Finishing first out of 13 bands that competed in finals, Inspirational Leader Alexa Holmes (12), said "Right before [we won] there was a lot of anticipation. We all knew that we'd had a really good run, and we felt super good about it, so when we heard the second place band announced we were trying to contain our excitement because we knew we had won, and when they announced us as the grand champions… we were just so proud, so excited. It was the best feeling." 
In addition to success on the field, the band was commended for their sportsmanship and grace off the field. "A few different people have reached out to me from that festival to commend our kids on how greatly they supported others and were really excited for everyone's success that day. That was almost cooler than winning, this level of commitment to the entire experience of everything, and not just winning for themselves. Pine Creek was known that day for really exhibiting great sportsmanship, and that is more important to me than winning," said Director Kate Margrave, who encouraged band members to keep pushing through the last 11 days of the season following the win. "We can do this. We can push to a new level than we ever have before at state, and all it takes is us deciding how much we want it, and how much we are willing to dig in. It's going to be awesome," Margrave said.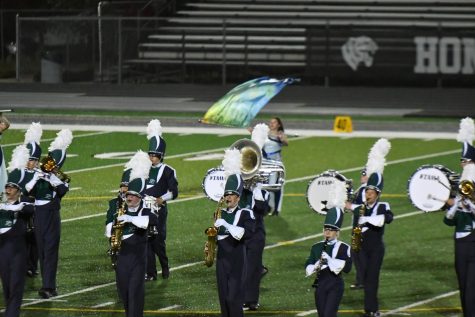 As drum major, Olivia Dillemuth accepted the award on the field, and was able to witness the rest of band's reaction to the win. "As drum major, you have to stand on the track and be completely still during awards, so as they announced 13th place all the way through 2nd place, I thought we were going to be announced. It was really, really hard having to stand still and not make any faces as they announced second place, and it wasn't us, and we hadn't been called yet. We had just performed, so the entire band was down on the track instead of up in the stands, so I could sort of see them out of the corner of my eye, and everyone was starting to celebrate, and then they called us. It was a great time. I was very, very excited," Dillemuth said. 
For Dillemuth, her band experience for the last four years has brought her out of her shell and increased her confidence. "Band has helped me find a voice and a confidence I didn't realize I had. Coming into high school, I was a really shy kid, and I didn't say much, but through the friendships I've made, the leadership positions I've been given, and the people I've met, and my directors, I've found my voice. I've realized that I like having leadership positions, and I don't like being quiet and shy. I like being who I am now," said Dillemuth.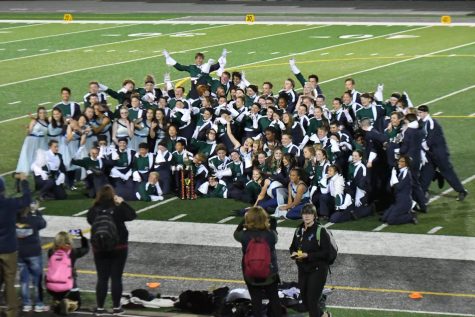 UPDATE: Marching band competed at regionals on Wednesday, October 20, and placed second. Their score of 79.9 was the highest cumulative score the Pine Creek Eagle Marching Band has ever received, and their results seed them 3rd in the state. Marching band will compete at the state competition on Saturday, October 30 at Falcon Stadium.