Cross Country Chases Success in the Desert and at Home
 The top eight girls and the top four boys from the Pine Creek Cross Country team traveled to Arizona on September 24, 2021 for the Desert Twilight meet, to compete against the best high school runners in the region. While the rest of the team was competing in the Coronado Cougar Classic, the athletes in Arizona were making history by having the first four girls runners stay below 19 minutes in the same race at Pine Creek. The girls team ended up taking fourth place out of 23 teams in the sweepstakes division after passing through the standard meet of 100 teams.
Emma Wilhelm, with an astonishing personal record of 18:08, led the team to victory by winning 27th overall. Dropping her time by more than a minute caused her to make number four on the list for fastest Girls Pine Creek Cross Country runners of all time! Lauren Boutelle was the next on the team to finish after Emma Wilhelm at 38th place, with a season best of 18:25, followed by Madelyn Blazo with a personal record of 18:29 at 39th place. The next finishers for the Eagles XC team were Natalie Buchanan with a personal record of 18:50 at 50th place, and Kayla Anderson, in 72nd place, finishing in just 19:25. The last three finishers for the girls team were Makala Jaramillio in 97th place, finishing at 19:51 with a season best, while Alexis Jaramillo, 120th place,  and Leilani Luu, 168th place, both had personal records of 20:21 and 21:38.
For the boys Desert Twilight crew, John Murdock with a time of 16:57, Carter Gonzalez finishing at 17:08, and Dan McCauley at 17:25, all ran personal bests, with Taylor Mallory running an amazing time of 17:41. A number of personal records were made between both the girls and boys teams, and history was made by Pine Creek in the Arizona Desert, at the Desert Twilight Cross Country Meet
A special congratulations to the Girls Pine Creek Cross Country team for winning the PPAC League Meet on Oct 8, 2021. With Emma Wilhem and Madelyn Blazo finishing in second and third, followed by Natalie Buchanan in fifth place, the team left the meet victorious. Makala Jaramillo (tenth place), Lauren Boutelle (12th place), Kayla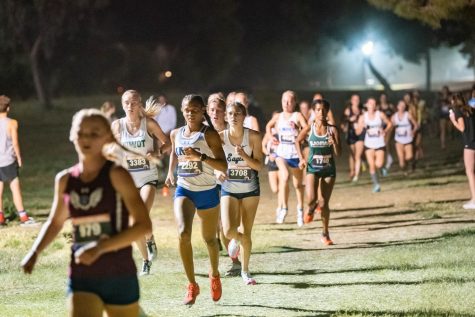 Anderson (18th place), and Alexis Jaramillo (35th Place), all contributed to the total points scored by the girls team.