Fall Sports in Full Swing
Pine Creek athletics have started strong for the 2022-2023 school year fall sports season. Tennis, Cross Country, and Football are highlighted in this week's article.
Tennis is back in action as one of the many fall sports. The teams first hit the court on August 12 and their season will last until October. Some of the players behind the rackets include Smith Barrinuevo and Emmett Smith.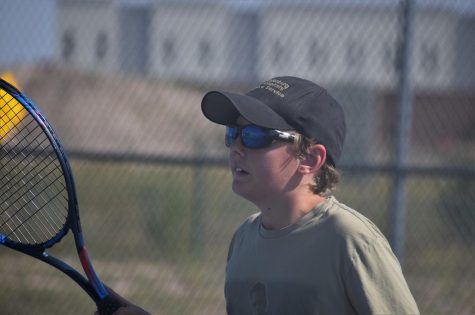 Smith Barrionuevo (10) started playing the sport last July for recreation and found a liking to it. This year he is playing competitively with the school for the first time. When asked what the best part of tennis was, he said, "just playing with my friends." But no sport is complete without a skill to perfect. He says the most difficult part of the sport is, "knowing exactly when and how hard to hit the ball because if you hit it too hard, then it's gonna go out of bounds, if you hit it too soft, your opponent's gonna be able to hit it back really easily, and if you hit it just right though it's really hard to hit back and that's like the perfect hit. "
Another skilled athlete, Nathan Eckles (10) said he started playing at around the age of 8 at Villa Sports for fun and has stuck with the sport ever since. "Getting a consistent serve, is something that I haven't mastered," said Eckles.  His prospects for the season were short and sweet: "I hope we win state and I think some of our top players can win state."
Emmett Smith (10), started playing the sport at the young age of 7 with his mom. Similar to his Tennis partner, Smith Barrionuevo, this will be Emmett's first year playing competitively for the school. Emmett kicked the season off right when he and Smith abolished their first match 8 sets – 0. They continued this winning streak by crushing their next match with a 6 sets – 1 triumph. He says his "favorite aspect of tennis is when I score a point or when I hit the ball in the sweet spot."
The Regional Tennis meet will occur on October 6 and 7, with the State tournament concluding the season the next week on October 13-15.
Running cross country can help you with your endurance and performance in other sports, some runners participate in a second sport, such as soccer or basketball, and use the cross-country season as a way to keep in shape. Other people just like to run for fun.
Emma Wilhelm (11) said, "I love the running aspect, which is the whole point of [cross country]." She really likes running and likes the people she runs with. "My goal for the season is to unify the team and to break my PR in the 5K," said Wilhelm.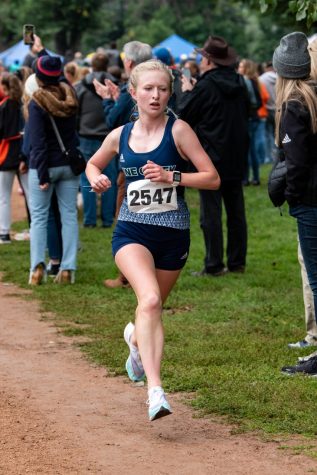 "Last season, I felt a little slow to start off the season and after all my practices, races, and experience I got better," said Jack Sheperd. With enough practice, you can improve your running performance into the season. "[The best part of cross crountry is] probably just hanging out with the teammates, enjoying having fun," said Sheperd. A popular reason to join cross country is that it can help you as you train for other sports. "I would say it does. I was playing soccer the other day. and just felt faster, it definitely helps with endurance I would say," said Sheperd.
"I do cross-country because I want to keep in shape and it's a nice endurance-based sport and as a very great team," said Derek Pendley. "To be honest, when I started I didn't want to do it a lot, but over the years I've slowly gotten more comfortable with it and better. I like it more now. I think it's a good sport to keep in shape," said Pendley. You may not want to do it at first, but with enough practice, you might like it.
"I felt really good actually. I thought everyone was super nice and the coaches knew what they're doing," said Casey Ochoa. "I would like to get 22 minutes, but I don't really know what's a good estimate or good time, but I want to get a good time," said Ochoa.
Pine Creek football is in the middle of their inagural 5A season with a record of 5-1 after last week's victory over Fountain Fort Carson. This jump to 5A means that they will be facing tougher competition in the regular season and the state playoffs. However, Pine Creek regularly faced 5A teams in previous seasons and the jump has not seemed to faze the team at all.
When asked how the jump to 5A affected the team's confidence Jerry Lydiatt (12) said, "it does not affect our confidence at all." Having faced many of these teams before has given the Eagles confidence as they step onto the 5A stage.
The season officially kicked off on Friday, August 26 when they flew to the city of Las Vegas, Nevada to match up against the Las Vegas High School. The team cruised their way to an outstanding 43-3 blowout victory against Las Vegas. Some members of the team take this as a huge victory. Brett Alvey (12) said, "it builds a lot of confidence to go into another state and be able to compete and win" when asked how the victory makes him feel about the rest of the season. However, Lydiatt said, "since it is a team from another state, we do not know where we match up."
Both Lydiatt and Alvey said they wanted to win the state championship. Starting Pine Creek's 5A era with a state championship. They lost their week 2 matchup against Valor Christian 24-7 but rebounded with a 28-19 win against Vista Ridge. Their fourth matchup was against Denver East where they have a blowout win, with a score of 66-14. The week 5 matchup was against Mullen where Pine Creek came out on top 28-13. The next matchup is against Regis Jesuit on Saturday, October 8 at 1:00 pm at Hatchell Field.