Graduates Plan for the Future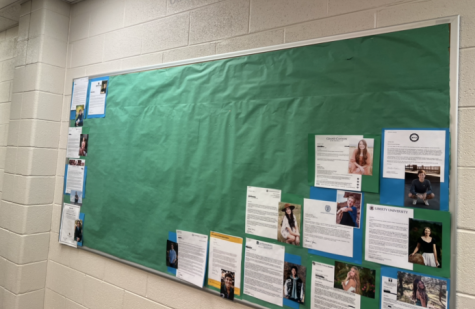 People grow older, time passes, and life moves on through good and bad. In some cases, it feels incredible, to know that you're getting older, growing into something new. But for some people, it's a terror. The senior class of Pine Creek is graduating on May 17th, marking another year gone by. They'll be moving onto bigger and better things, to college or the military or the workforce. On April 29th, the school celebrated "Decision Day" where seniors declare their intent for their futures.
This graduating class of Seniors spent most of their high school career in quarantine– this affected the population greatly.  Senior, Kylie Shrank (12), stated that: "When I moved here, we were already in Quarantine– but it's good now." As we move out of COVID procedures, the Senior class moves on to a bright future, marked by various paths.  Shrank (12) said that she'd be going to Boulder, even if she hadn't picked a major. "They'll give me a counselor, to help me figure out what I want to do."
Furthermore, there are trade schools one can join, or can go straight into the workforce. Caleb Albaugh (12), a talented welder in his own right, will be going into the welding field after high school. He said, "I decided to sign up for Career Start as soon as I could and I've done welding both years. I would highly encourage anyone to enter the Career Start program even for just a year to see if a skill is for them instead of academics."
Keigo Kawazoe (12) will be attending the University of Northern Colorado. He is majoring in meteorology and is taking the steps to become a future meteorologist. Kawazoe said  "Academically I am prepared for college but mentally I'm not sure if I'm ready to start a new path in life yet. I will definitely miss high school and all the friends I've made here."
There are plenty of alternatives to college for students. In the end, graduation is just around the corner, and it's important to understand the options afforded to you, whatever grade you may be.
Graduating high school can be terrifying and thrilling. It is like beating a stage in a game unlocking a new chapter in a book. It is truly the start of your life. No matter which road you choose you to go down, always look for new opportunities, Make new friends, and strive for greatness. You only have one life so make the best of it.