Be Yourself: Comedic Actress Tiffany Haddish Speaks to Students Supporting Culture Club
On September 30th, comedian, Actress, and author Tiffany Haddish visited to give a pep talk to the Students Supporting Culture group.  She encouraged students that they should do what they love and love themselves. But to students, it was much more than that. One of the hardest things about being a high schooler is that you can psyche yourself out in ways that no one can imagine.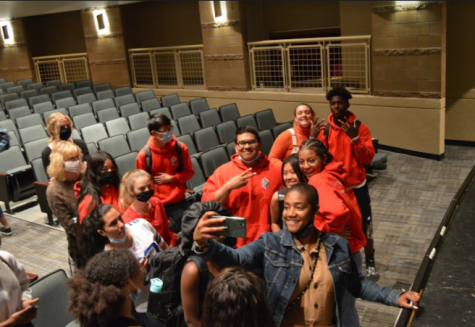 Senior Williams "Will" Liu said "I thought it was really interesting that someone could come down and, be so human, and be really open about it. It's just really fascinating to hear a bunch of different stories and perspectives. It's just really inspiring to see how people got to where they are."
Haddish says that you should do what makes you happy, for example: She has a friend that loves to sleep, so scientists use her as a guinea pig for sleep medicine. She'll take the medicine, sleep, then go and live her life and say if she got in a car accident, they would write on the back of the box "don't drive after consuming." So, the moral of the story is, do what you love, don't waste away your life.
Haddish also advised students to "Look in the mirror for a full minute, every day, and tell yourself 'You are worth it, you are beautiful.' I bet you 1,000 dollars, that none of you will be able to get it out without crying, and that's okay." she says that this is a way to boost your self-esteem, and it can fan away all those negative thoughts.
"I think it's so cool that someone so high up and famous, came here to hang out with a group of high school kids. I feel like we're really lucky to get her point of view." Says junior Olivia Heath.
Haddish came to Pine Creek because of her personal connection with Counselor DeAngelo Nedd with whom she attended high school in California. "I thought it would be a good fit for her to come in and talk to the students, just because she struggled through high school. It's just always nice to hear someone else's story instead of always hearing from a teacher, or a counselor, or a parent, and she's in the position where people will pay more attention to her, and her story. Just for them to know, if they put their mind to stuff, they can achieve what they want to achieve," said Nedd.