Largest Freshman Class: Crowded Hallways and Slow Traffic
Pine Creek students have been experiencing an increase in traffic the first months of school due to the biggest freshman class in Pine Creek history. According to Pine Creek Registrar, Sherry Gregory, the class of 2025 is 514 students, putting the school's current enrollment at 1,795 students, compared to last year's 1,616 students.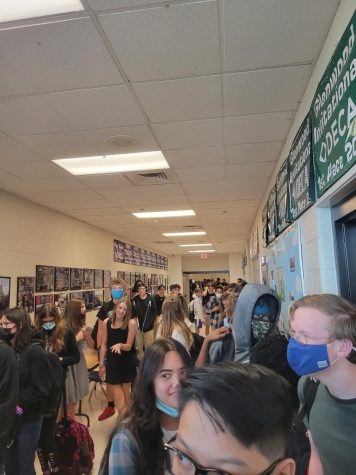 There are many reasons students are drawn to Pine Creek: state champion athletic teams, award winning arts programs, a large variety of honors and AP courses, and the cybersecurity program now hosted at Pine Creek.  "I moved here for hockey," said Senior Max Richards. Clubs and other offered activities at this school are thriving this year, and with more students joining than previous years. "I joined DECA because I like business, and want to major in it [in college]" said Junior Kaylee Gonzales. There are 201 students in DECA this year according to adviser Lindsay Edy. Part of this growth is due largely to the size of the freshman class. Freshmen also contribute to overall school spirit. With the freshman class being the biggest, the school spirit has been higher than ever, making chants louder and helping raise the spirit within the school. However, the increase in students is causing some issues within the school, like crowded halls and longer lunch lines. Junior Natalya Tag said "It's really stressful in the hallways now. I feel like it's super packed and there's so much traffic in the morning. I would much rather walk than drive because the parking is so annoying."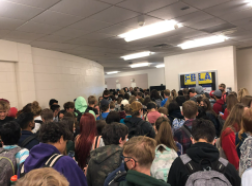 Many students are impacted by the traffic rush, causing tardies and complicating morning schedules. "I get to school by biking every morning, and it is usually tough for me to cross streets when all the cars are in the way. It is very annoying that most of the drivers don't have the consideration to stop or get off the cross walks," said Freshman Avignon Zehnder.
Parking has also become harder to navigate due to the traffic, as many more spots are now taken. Crossing the main intersections like Powers has become more dangerous for students as a result of the increased traffic. Students have to leave early, such as 20-30 minutes before school starts just to arrive at class on time. "I think it's kind of ridiculous it took me 30 minutes to get out of the parking lot the other day." said senior Max Richards, who lives 5 minutes away, yet commutes for twenty minutes to get to school.