200 Years Later, Classics Come To Life
Creek Theatre Rehearses Jane Austen's "Sense and Sensibility"
Creek Theatre's upcoming production of the play "Sense and Sensibility" has re-energized interest in classic literature. Based on the novel by Jane Austen, "Sense and Sensibility" tells the story of two sisters, responsible and reserved Elinor, and passionate and romantic Marianne, and their journey through trials of love and life following the death of their father and reduced financial circumstances. Full of drama, gossip, love, humor, and heart, Kate Hamill's stage adaptation of "Sense and Sensibility" is being rehearsed on the Creek Theatre stage. "At the root of it, it's about judging a book by its cover, and family, and a lot of stuff that we deal with in our times, which you wouldn't think of the first time you hear of it," assistant director, Morgan Wylie (11) said about "Sense and Sensibility".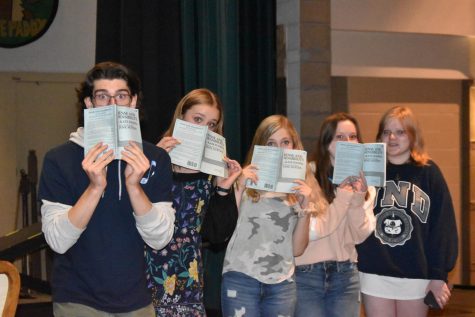 Carly Simpson (12) plays Marianne Dashwood, sensibility of the title. "Marianne is the quintessence of teenage idealism. She is just so romantic, romanticizes life, and sees the good in everybody, and I see that in myself and in so many of my friends. Marianne is ever-present in the teenage experience," Simpson said of her character, who is just seventeen years old, yet has to contend with love, heartbreak, and balancing her romantic sensibilities in the light of society gossip. "She is so vivacious and full of love for life, and I can relate to that so much. She is bubbly and full of love and sensibility, and I just adore her," said Simpson, who started "Sense and Sensibility" without much understanding of the story. "Going into it, I thought it'd be boring, to be perfectly honest! Because it's Jane Austen, and that's not something that I'm super familiar with. But I found that it's such a fun script, and it's so funny, and full of life, and there's just so much opportunity to play around with my character, and to find her in myself and find myself in her, and build this relationship between me and Marianne, and me and my castmates, and it's just been such a fun experience." 
At its roots, "Sense and Sensibility" is a love story: sisterly love between Marianne and Elinor, and trials and tribulations of romantic love for both of the sisters.  "I think that audiences should take away the importance of love between the sisters, between Elinor and Marianne. I think that that is just such a big takeaway of familial love, and finding happiness that you didn't expect to find," Simpson said. Zach Frederick (11), who plays Colonel Brandon, an older bachelor who falls in love with Marianne, described "Sense and Sensibility" as "Basically just high school, in the 1800s, without the school! There's a lot of drama in the play which is very applicable to life today."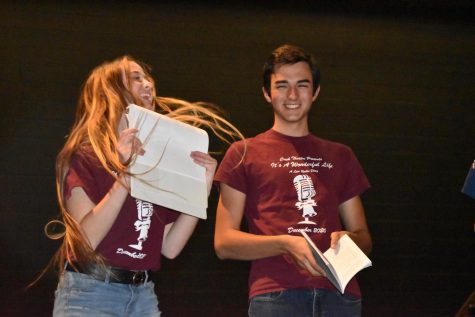 Director Michele Messenger chose "Sense and Sensibility" for it's feel-good story. "I wanted to do a timeless classic, I wanted something that was lighthearted, hopeful, and inspiring, coming out of the pandemic," Messenger said. She believes that elements of "Sense and Sensibility" are very applicable to modern life. "The story features the dangers of assumptions, the problems with gossiping, and also just the importance of communication, because sometimes we lose our communication skills, especially with social media. Making sure someone knows exactly how you feel can save you a lot of heartache in the long run," Messenger said. Morgan Wylie, who is working directly with actors as assistant director, said that the maturity of classic stories adds a challenge to the production. " In doing older literature adaptations, there's a certain aspect of maturity in the characters. A lot of our actors need to be in a different mindset than they would be for other shows, so it's a bit of a challenge, but they've been taking it extremely well," Wylie said.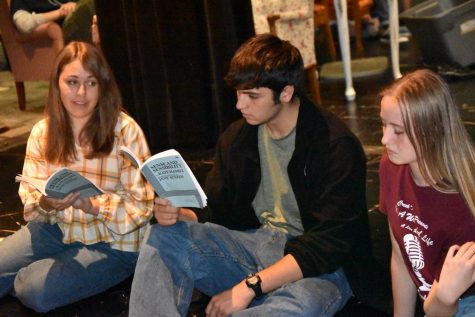 "Sense and Sensibility" has sparked an appreciation of classic stories in the cast and crew. "I hope the cast and crew get a newfound appreciation for older literature, that when you bring it to life, it can be a lot of fun," Messenger said. For Carly Simpson, she's already seen some elements of Marianne carry into her life. "Marianne has awakened this exuberant joy within me. Since I've started playing her, I've just felt so much more alive, and myself, and I love it. It's an amazing experience."
"Sense and Sensibility" will perform November 11-13, in the PCHS auditorium. "I hope it puts a smile on the audience's faces," Messenger said. "And I hope it gives them a little hope in happy endings."