All The World's A Stage: Denver Center for the Performing Arts Brings 'A Midsummer Night's Dream' to the Pine Creek Parking Lot
The Denver Center for the Performing Arts visited Pine Creek to perform a special version of Shakespeare's 'A Midsummer Night's Dream' in their Shakespeare in the Park series on April 28. Seniors enrolled in English classes and the Thespian Club attended the two performances, one in the morning, and one in the afternoon, and the Thespian Club participated in a special workshop in the afternoon. Christian Ray Robinson, a Pine Creek High School alumni, and a DCPA company member who played Lysander in the production said "It's different. Being outside brings different challenges, because you'll travel to different areas and spaces and because of that sometimes we'll have horns and things, and it becomes part of the scene, it's nice to work inside, and with this we aren't able to." Robinson, who participated in theatre while at Pine Creek several years ago, and served as International  Thespian Society
President and an actor while here, reflected on his acting origins at Pine Creek: "I started performing when I went to high school here, as a sophomore, all of us have been here around 10 years." Denver Center's Shakespeare in the Parking Lot Series also includes the show Macbeth, referred to as 'The Scottish Play' by scholars, and Romeo and Julliet. The company of actors and stage management cycles roles, and each actor knows multiple roles in 'Midsummer,' and is able to work as Production Manager, depending on the day. "We all know multiple tracks each show, for example, I can also play Puck and Dmitris [in addition to Lysander]," said Robinson.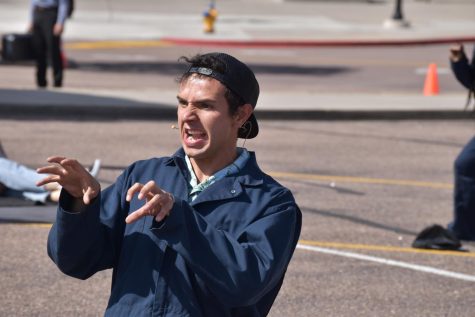 The performances were coordinated and organized by the International Thespian Society's student Officer Leadership Team, and was a special focus of Vice President Carly Simpson (12). "I started organizing this event and corresponding with DCPA around September. Having planned everything out over months, when the performance day finally came, it felt so fulfilling! Watching everyone enjoy the performance made all the hard work pay off," said Simpson. International Thespian Society President, Braxton Dietz (12), said "It was an absolute joy to work with DCPA. One of the core goals the theatre leadership team and I have had this year is to inspire our department to become excellent, so between the DCPA's two shows and their workshop, I hope we were able to inspire people within our department, and bring some prominence from Creek Theatre to the school and community."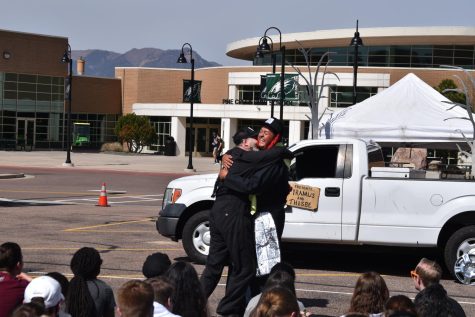 Simpson hopes that the opportunity to see a professional show performed right at school will inspire and motivate theatre students to not only enhance their own performances on and off stage in the future, but to also realize that local theatre is an opportunity post-high school, as it was for Robinson. "It was so inspiring to see the passion and talent of the professional performers! I think our department will be inspired to perform to the absolute best of their ability and truly find a love for what they do," said Simpson.
Over the many months of organization and finalizing communication, Creek Theatre built a connection with DCPA that Dietz hopes will extend to the coming years to make the Shakespeare visits an annual event.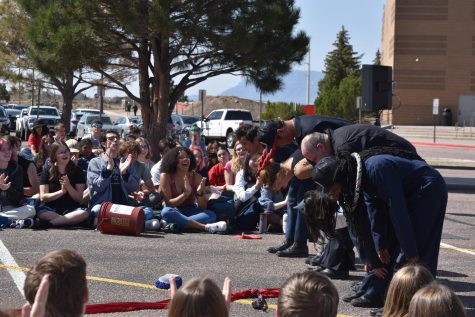 "It is always amazing to see something with many months of planning pay off in a rewarding way. This event was better than I ever expected it to be– both for theatre students, and other students who came to the performances. Getting to spend that beautiful day outside under the sun and learning through their workshop was an absolute blast. I think this will become an excellent annual event hosted by Creek Theatre and the Pine Creek English Department to create more excitement around fun performing arts events like this," said Dietz.