Trunk or Treat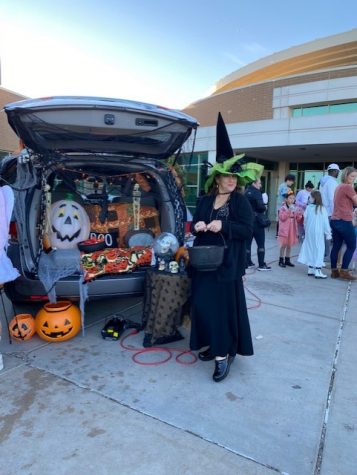 The Student Council has been working around the clock since the beginning of October to put together the Trunk or Treat that took place on October 30th.
"We've been working on it for a couple weeks now, every class period. We've been working on the layout, advertising, getting people to sign up, you know. It's taken a lot of time, but it's been very successful in the past and we want it to be as successful this year," said Senior Class President Danny Cho.
Trunk or Treat was a get-together where many diverse clubs brought their vehicles and decorated them with a theme correlating with their club, and they handed out candy to passerby. There were around 20 trunks, according to senior Danny Cho. Freshman Adaline Forand said, "I think it was a really cool idea, I like all the different trunks that were there, because I thought there would be a lot less than there were."
Decorating the trunks was tedious, but worth it, said to freshman Bella D'Elessio, who helped decorate the GSA trunk. "It was kind of difficult because we only started planning two days before, so we weren't very together. If we had more time to plan it out, it would have looked much better. Our original plan was Disney, but we ended up only having pride flags, balloons, and streamers. But overall, it was hard."
Due to the windy and cold weather forecast, many families chose to keep their children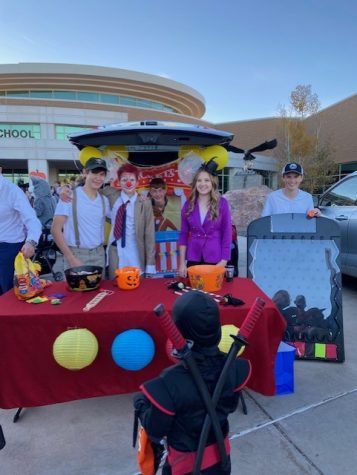 home instead of taking them out to trick or treat on the actual day of Halloween, so Trunk or Treat helped students who wouldn't get the chance. "I liked all the trunks it was really fun, it also helped because I wasn't able to go trick or treating," said freshman Finnick Freeman.
Trunk or Treat wasn't just a gathering, it was also a contest between trunks. The two winners were The Mystery Machine, by the Student Council, and the JV Volleyball trunk, whose theme was pixie hollow.