What Comes After Pine Creek?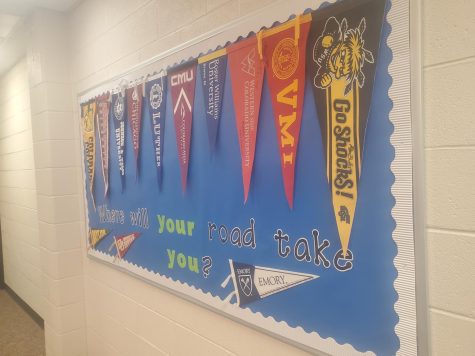 Senior students at Pine Creek have been working on their college applications all year. In the first month of the second semester, many Seniors are turning in their final applications and waiting for results. The college and career counselor Stephanie Cornelio says "I think things are going fabulous this year's class has done a great job in, applying, getting acceptances, and really doing a good job making sure they got good opportunities for themselves when they graduate". In some cases, students have already received acceptances and rejections.. Stephanie Cornelio recommends "I think the best thing to do is to begin to apply for scholarships, don't wait until you get your college acceptances you can start using resources like fastweb, scholarships.com, even talking to people you know to find out if their companies or your parents companies offer a scholarship, also you can check your naviance homepage if you scroll down to the bottom there is a local scholarships tab".Many students consider other ways to continue their life such as joining the Army, Marine Corps, Air Force, and other parts of the military. Some students want to start their careers early so they can be financially stable before college. Various students also plan to go on missions after school in different states. 
With college being the next step into adulthood it can be expected that Seniors can feel both nervous and excited. "I'm scared honestly," says, Colin Humlichek (12), "but once this year is over, it's going to be ok". Another Senior, Lydia Yu (12) says, " I'm mostly just scared to leave these people and all my other friends". Some students are excited about college like Senior Noah Osteros (12) who says, "I think the excitement overrules the nervousness, kind of like the starting fresh like new life, new chapter". "I'm excited to live on my own and do things on my own," says, Osteros, I'm excited to just keep the connection with my family and friends that are still here along with making new friends".  While a lot of students plan on going to college there are also some different options that work better for them.
College might not be the first step for many, as some consider other possibilities such as joining the Military. Military is an option many consider because of the wide range of choices they have, as well as the benefits they gain from it. Nick Christopherson (12) explained "My plan is to go to college and also join the military at the same time" Joining the Military also can help others with their college plans as they will not have to pay as much as they would by themselves to go to college. The Military would help pay some of their tuition, they can also provide people will a place that has a low cost of living. 
Many plan on doing missions in other states and then continuing college, as an intermission between always studying and doing work. Austin Perigo (12) explained his plan after high school "I'm going to serve a 2-year mission for my church and then go to Utah state". Going to different places and spreading the word of God, by doing projects like building houses or churches. Trying to rally people around faith, and helping others. These opportunities are also used to help open people's eyes to different areas they have never been to before. They could also do food drives and other ways to help people. Some of these trips can also be specialized, like for medical purposes or for construction purposes.