Winter Sports Wrap-Up
As we welcome the spring sports season to Pine Creek, we would also like to recognize how our winter sports successfully came to an end. With the girls swim and dive team placing third in state, and girls basketball making into Sweet 16,it can be concluded as a pretty successful winter sports season.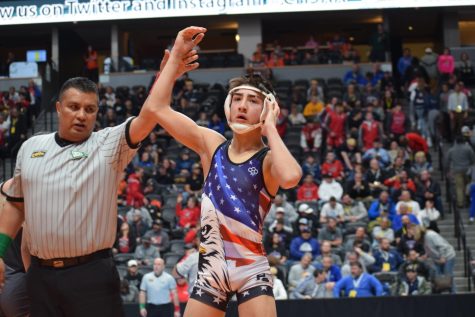 Wrestling had many state qualifiers and individual placings. Out of the twelve state qualifiers of eleven guys and one girl, five wrestlers placed in the meet. Griffin Rial (9), 5th, Sir Pulido (11), 5th, Logan Noble (12), 6th, Nate King (11), 5th, and Victoria Guinard (11), placing 2nd. The three freshmen shared their thoughts  on what they thought they had to do to achieve first place in the future years, "I think I need to work harder in the offseason so I'm a step ahead of everyone that isn't doing anything in the off season. I also should lift harder so I'm stronger for the next season" said Rial, and "I just need to put way more work in the weight room and fix some small mistakes with my technique." said Elijah Banks, "Keep on achieving the things I have, I will keep the hard work up for the better results next year." said Axel Hildenbrandt. This season was a special year for our seniors, with last years state being regulated and not being held at the Pepsi Center due to COVID-19. They finally got to experience the big arena. We asked about how these lessons and memories will impact them in their future lives, and also for Misha Byers being able to recover from his elbow injury so fast to get to state, "I owe it to God. I believe wholeheartedly that I wouldn't have been able to wrestle, much less make it to state if it wasn't for him. My injury was my Goliath and God helped me slay it. The wrestling team has had one of the greatest impacts on my life. I've learned how to work hard, push through struggles, be disciplined, and overall how to be a better man. I'll carry the memories I've made on the wrestling team forever." said Byers. "This year's team was by far the best team I was a part of. All of the guys got along really well. The amount of work I've put in with some of the guys has really brought us together. A lot of the memories I've experienced have come from wrestling with this team, good and bad. The program has made me a better person, and I'm sure some of the qualities I developed from wrestling will help me later in life. I feel I could have performed better. I hope with the future guys they know the standard when it comes to working hard, and treating each other with respect on the team. The standard of winning, and the level of pace and intensity that we want in the room" said Noble. When asking Coach Gabel about his thoughts on this year's performance, being able to go undefeated taking the division title on what he thinks needs to improve to go above and beyond and win that state title, "It takes long-term consistent work and dedication by the team returning next year. We have a saying in wrestling that Spring and Summer wrestling makes winter champions. There is no secret to winter success, dedication and hard work in the offseason. We have a great group of wrestlers returning who are willing to commit to that vision of winning state titles. The future is exciting!" said coach Gabel. The Pine Creek wrestling team finished in eighth place overall. 
Girls swim and dive ended up taking 14 state qualifiers to the 4A CHSSA state championships. 1 diver amongst the 13 swimmers, Sophia Turner, placed 18th overall in the state, not to mention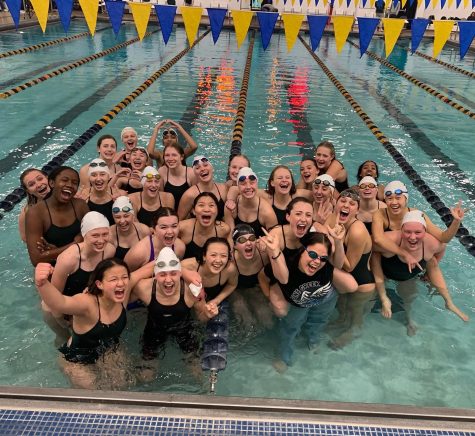 that she has never dove before this year. The other 13 state qualifiers were Izzy Burton (10),  Molly Burton (11) , Liberty Bergquist (10) , Sarah Burns (11), Sabrina Kersey (9), Brooke Michalak (12), Evie Morris (9), Madi Mintenko (9), Samantha Mongillo (10), Chloe Robinson (9), Tera Shultz (11), Kamdyn Swanson (10), and Elena Weber (12). With the 200 Medley Relay placing 4th, the 200 freestyle relay placing 3rd, and the 400 freestyle relay placing 3rd, the team was able to bring home 3rd place for the 4A Swimming State Championships.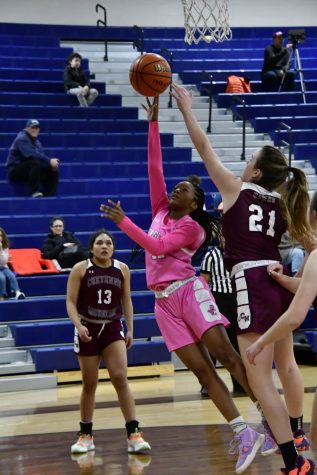 Girls basketball has made Pine Creek history this 2021-2022 season. Being the first girl basketball team at Pine Creek to reach Sweet 16. We asked some of the seniors how they felt with this season coming to an end and what their favorite memories were throughout their time at Pine Creek. "As the season came to an end I was pretty sad that it was over and the fact that I wasn't playing basketball next year but I was happy to be ending my senior season with this team. My favorite memory of the season was going to Arizona as well as going up to Fort Collins and upsetting them to make it to the sweet 16." said Madelyn Blazo. Another Senior, Reagan Thorne, reflected on how emotional the end of the season was for her, relating her teammates to sisters. " It was emotional, it was sad, it was happy, it was a really good end to the season… it was great to share that moment with everyone you love."
Boys basketball went 13-11 having a great season this year and constantly practicing to do better. We asked some of the seniors what kind of impact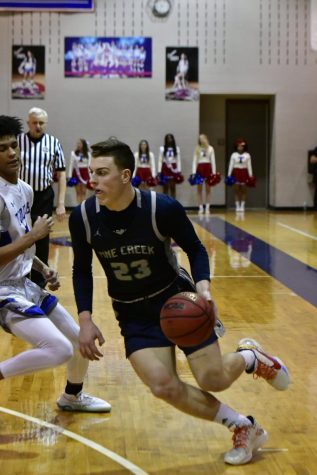 they would have on their younger teammates and what their favorite memories were from playing basketball with Pine Creek, "I hope that I and my fellow senior teammates left an impact and culture of working hard to reach there goals from the beginning of the season. My favorite memory from playing for Pine Creek was beating Liberty in overtime my sophomore year." said Quinn Maher, " I think a big impact on some of the younger kids is just to have them work their hardest and enjoy every moment of the sport they play no matter what. My favorite memory is when we beat DCC and how I just made many brothers all throughout high school." said senior Alex Esterle.